Jerusalem January-February 2020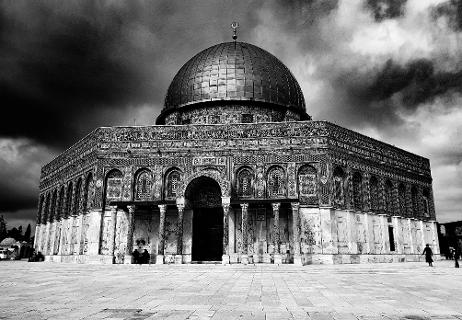 I was invited by Michael Elbaz to support a project in Jerusalem. At the time of the discussion which took place many months before in another of my residencies in Osnabruck, I imagined that I would be making some painted works. When eventually we spoke and Michal connected me with the director of the project Adina Tal, I realised that they needed a filmmaker. This resulted in an intense period of learning for me and the purchase of equipment which would support the work. A supporting letter to border control and an explanation of why I was carrying so much metal in my luggage and on the 27th January 2020, I landed in Tel Aviv.
The premise of the 'Grandmother's Stories' theatre production, which I was to film, was simple: Arab and Jewish Israeli women would recount their memories and reasons they love Jerusalem. According to an article from Haaretz, "Grandmother Stories" was directed by Adina Tal and was a collaboration between the Chan Theatre, the Nalaga'at Center, and the Association for the Promotion of Culture and Dialogue. The Soroptimist International organization also provided funding for the project."
A few weeks prior to my visit, the incompetent Donald Trump had recognized Jerusalem as the capital of Israel. It was a tense and difficult time, with feelings running high. It was palpable and had I perhaps realized how volatile things could be, I might have had second thoughts. As it was, going to Jerusalem with so little in-depth knowledge was the best learning experience of my life. The residency was intense, and it is amazing how time slows down when you have to travel, film, read situations carefully, listen and be present. I came back with hours and hours of film and hundreds of photographs. Not all the material will be shown and I suspect some of the more personal interviews will not really see the light of day. However, some of the footage was used during the performances at the Chan Theatre. Alongside the doing, came a plethora of insights and visits to cultural monuments. The Abrahamic religions are intertwined like trees that grow separately. They jostle and compete for resources and soil. I think that those experiences during such a short and intense stay will continue to influence my work and political thinking for the rest of my life.