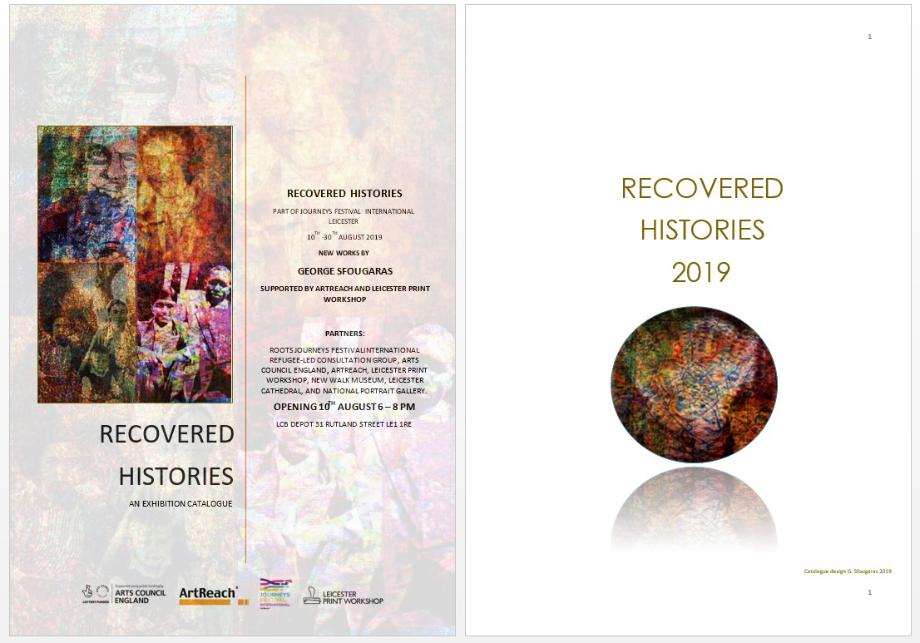 CLICK IMAGE ABOVE TO PURCHASE CATALOGUE. Free postage.
Or click on the image below to have a copy made for you by BLURB (Netherlands) and posted directly to your address. Global postage charges applied by BLURB.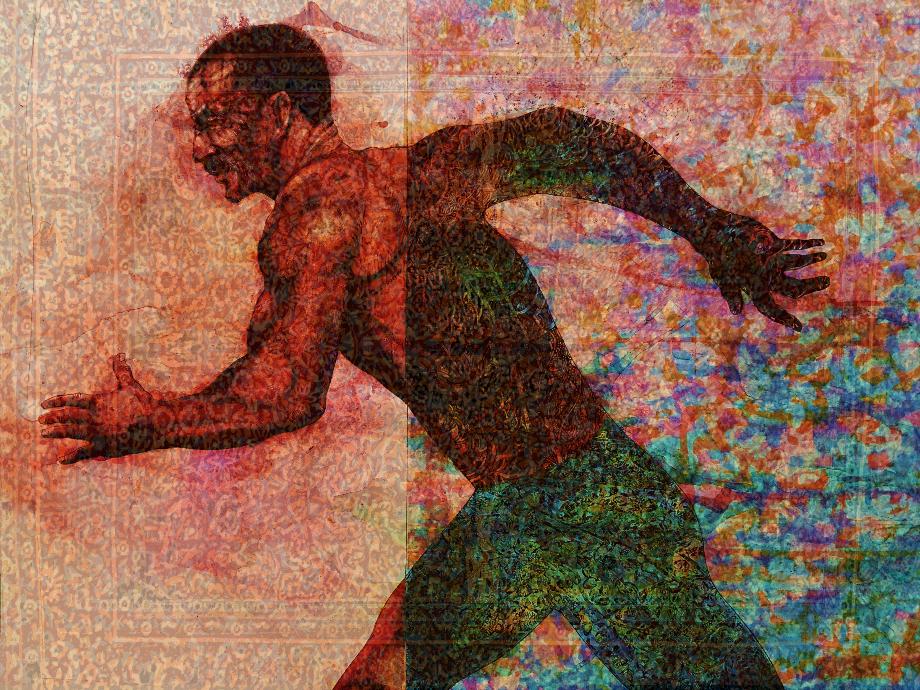 RECOVERED HISTORIES EXHIBITION
Part of Journeys Festival International
10th to 30th August 2019
All welcome to the opening at LCB Lightbox Gallery, free admission through Eventbrite click on the image below.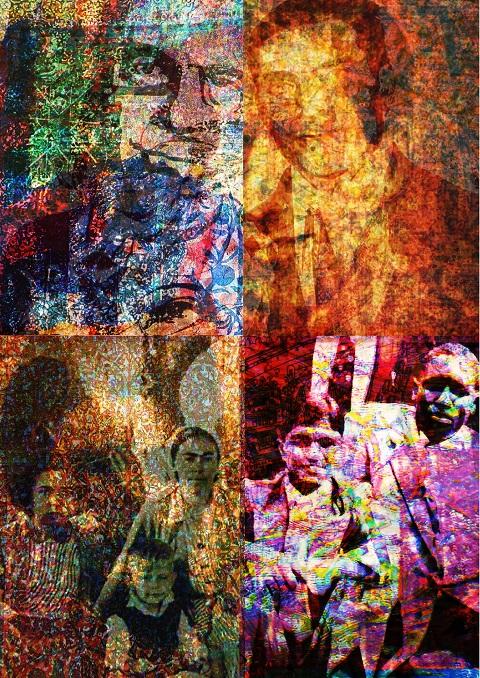 An exhibition of new drawings, and mixed media works by George Sfougaras extending the artist's work into new print methods and materials, some animated though light and film.
'Recovered Histories' comments on shared human history, addressing change and reconciliation. Layers of meaning are created through the symbolic use of pattern and light, combined with artwork and archival materials from displaced families.
Several larger works can also be seen in Leicester Cathedral, Leicester New Walk Museum, The Curve Theatre, Leicester Print Workshop and several community centres and libraries in Leicester throughout the Journeys International Festival 10th - 30th August.
Leicester Cathedral Dean's Discussion with the artist George Sfourgaras.
Exploring the inspiration for and creation of multi-layered artwork, such as the Recovered Histories Project, and questions around identity which such works invoke.
May 2019:
Wonderful news, the following project is being funded by Arts Council England:
'RECOVERED HISTORIES' May - September 2019
Metaphors of historical events, changing identities and fluid political landscapes.
An Arts Council, National Lottery funded Project. Artist George Sfougaras.
In Partnership with:

ArtReach

coordinators of Journeys International, ROOTs City of Sanctuary volunteers, Leicester Print Workshop, Leicester Cathedral, Leicester Museums, the National Portrait Gallery and filmmaker Kate Drucquer.
Bio and current work.
George Sfougaras is based in the UK and works and exhibits internationally, in collaboration with a network of partners. His work is concerned with the way people's lives are affected by history and how national symbols, myths and rhetoric shape identity. Sfougaras was born in Greece by parents who were refugees from Asia Minor and who came to the UK during the 1970s military Junta period and these experiences form the cornerstone of his work.
Sfougaras is one of six 'inspiring, internationally renowned artists' selected by Creative Leicestershire 2019-20. He has gained recognition with his reconstructed maps and narrative portraits and published suites of prints and books reclaiming aspects of Jewish, Arab and Greek history. Exhibition prizes include Small Print International (2015) and Ideas on Paper (2016). He was a finalist in Freedom.org's Depicting Human Rights competition (2017. Sfougaras was invited to speak on Identity at the Asia Triennial in Manchester in 2018. In 2017-18 he exhibited at Rugby Museum and Art Gallery and Leicester New Walk Museum, Alexandria Library Manchester, Valletta, Malta, and Crete, Greece. He was artist in residence in Chania, Crete in March 2019 and in Germany in July-August 2019. He has held a variety of roles in Education, from teaching Art to most recently the headship of a Special school, partner in the LEHO EU project and as one of the Directors of the WELL Trust.
New book out March 2019: 'The Forgotten Conquerors' Published by Mehri Publications, London UK. Click on the image below.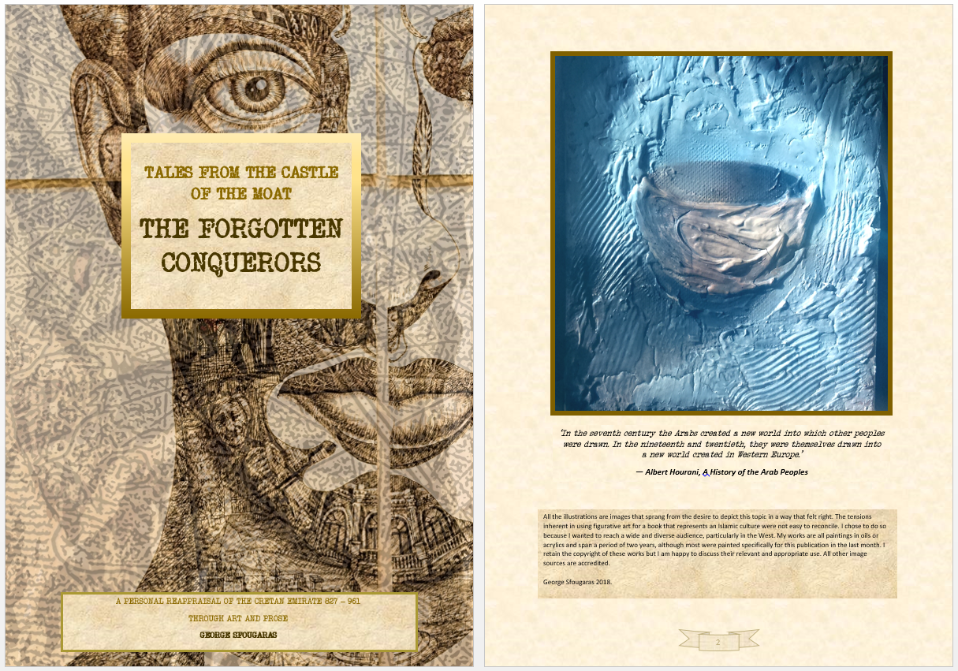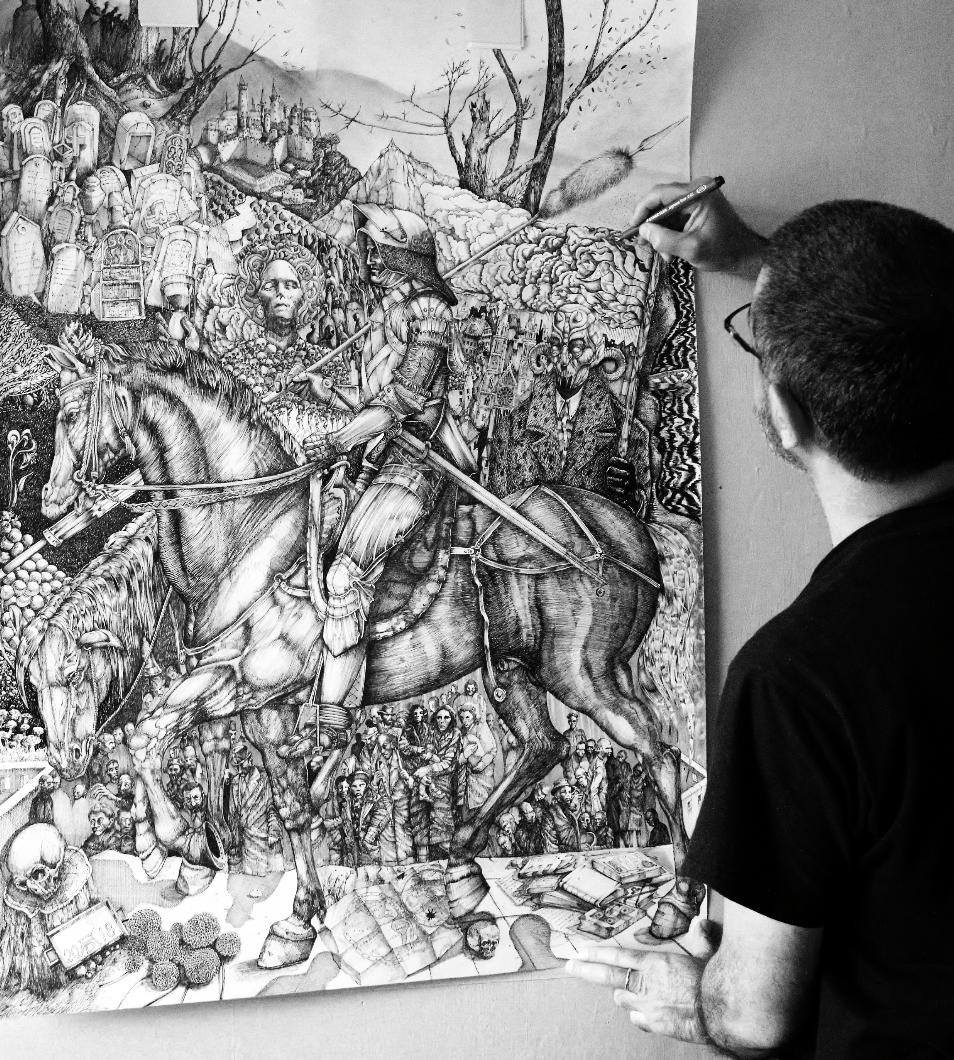 Work in progress on my pen and ink drawing, entitled: The Knight, Death and the Devil 2018 (after Durer). November 2018.
You can read a detailed description of this work on my blog by clicking on the above image.
Follow me via Instagram and my Blog. (Click on the logos below to be redirected).
George Sfougaras is the coordinator of the international Focus on Identity Collective. (Click on the logo below to be redirected).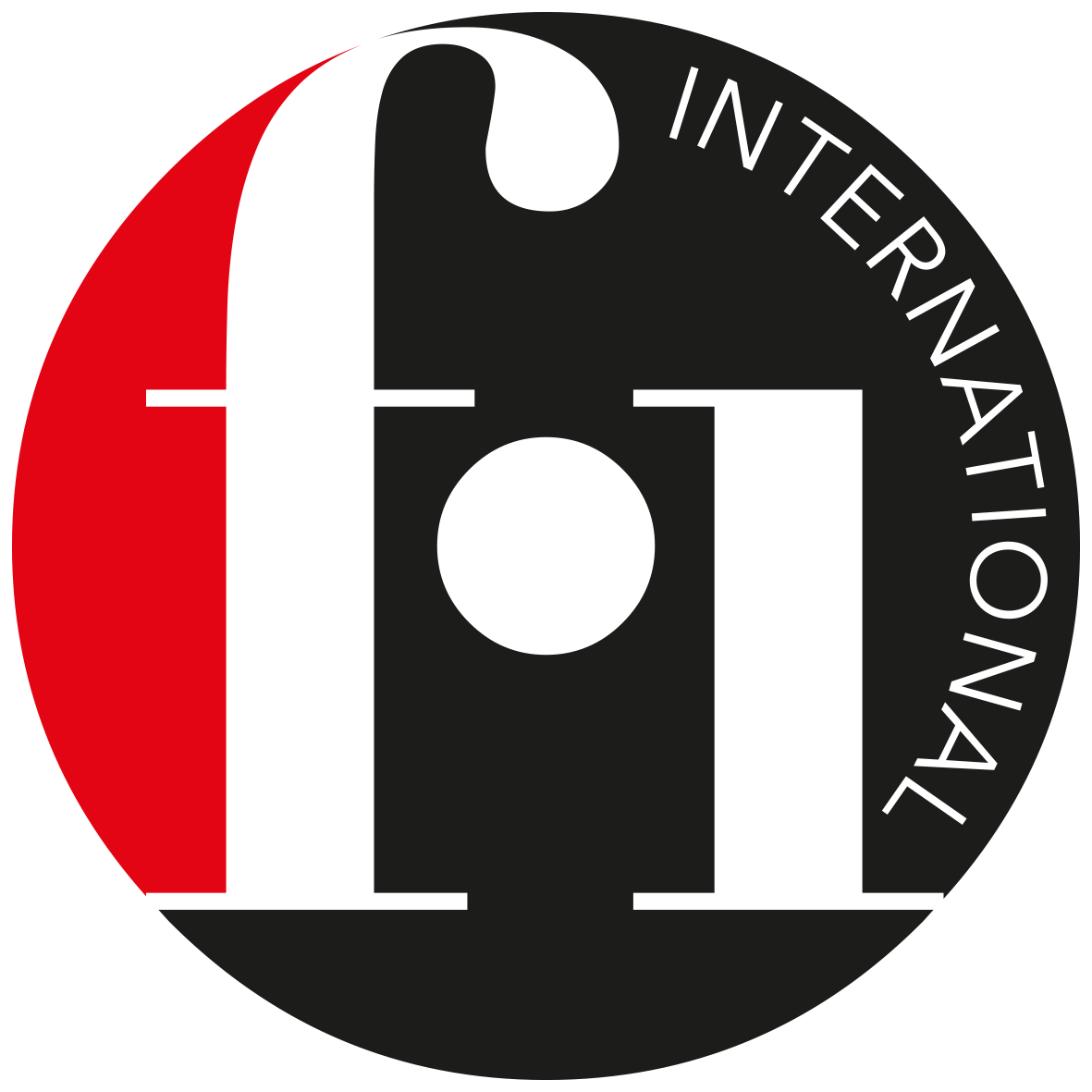 Themes
Cultural Geography and History are significant sources of inspiration as well as broader global events at the intersection of politics, geography and religion. My current work explores lost histories with the outcomes expressed as paintings, pen and ink drawings, prints or books.
I tend to work in themes. In the 'Talisman Trilogy' I explore how time and cultural beliefs interact and evolve, sometimes resulting in harmony and other times conflict. In the series the 'Songs from my Father' prints I allude to the state of the world, incongruously juxtaposing innocuous images with mass migration and human conflict. In 'Personal Maps', I explore how emotions, geography and history can be narrated and 'mapped' within the same piece of work, accruing several layers of meaning.
Some of my subjects are people and places that I have known or that speak to me on a spiritual level. I use materials which are of significance to the sitter and recently my works have objects concealed within the painting surface.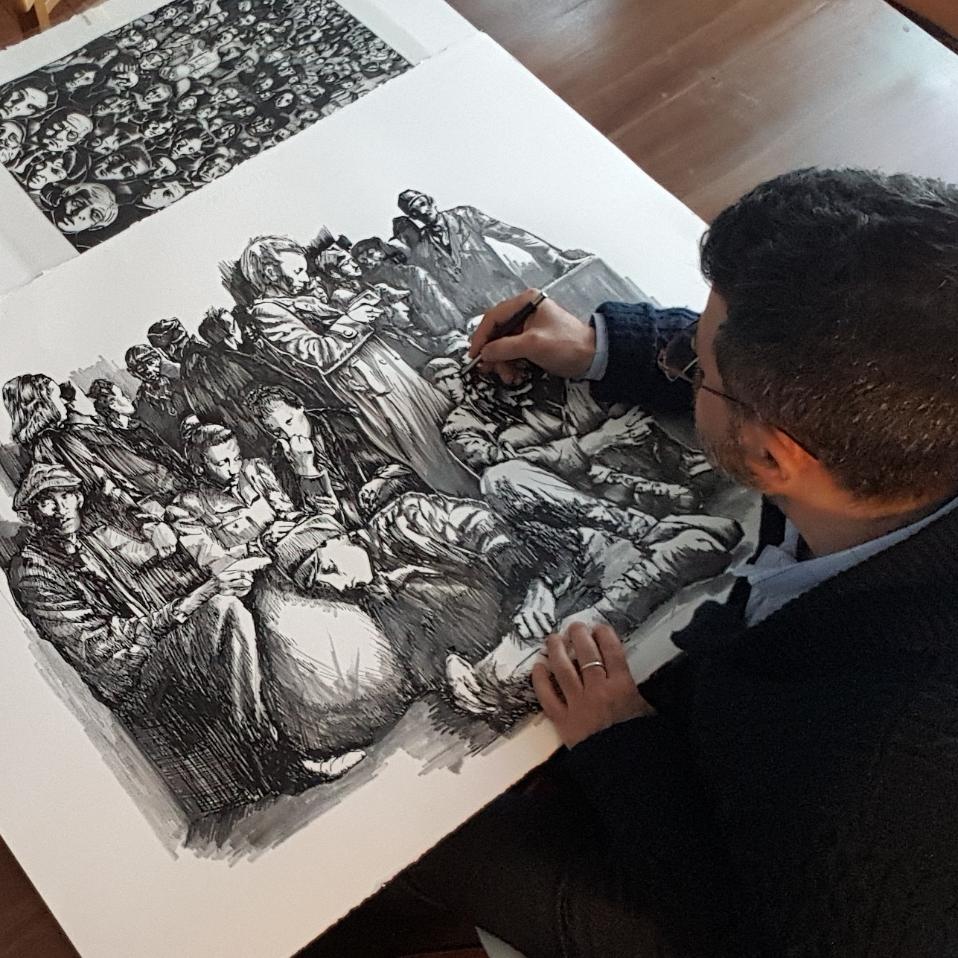 THE STUDIO IN POTAMIES, CRETE
THE STUDIO IN LEICESTER UK
Other Links
Leicester Society of Artists:
George Sfougaras Blog:
Leicester Print Workshop Artist page:
Focus in Identity: