Since 2017I have the pleasure and the honour to be a part of the FOI collective, alongside 18 other artists from 12 countries. You can see our work at www.focusonidentity.org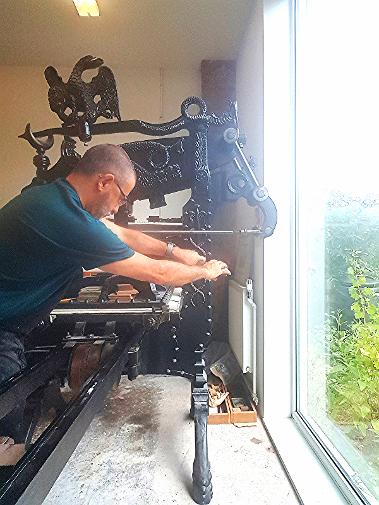 Thank you for visiting my website
Inspiration
Cultural Geography and History are significant sources of inspiration as well as broader global events at the intersection of politics, gender and religion. I am interested in the way that information is selectively kept and handed down and in creating visual narratives or 'personal maps' through art. My current work explores lost histories with the outcomes expressed at various times as paintings, prints or books.
I tend to work in themes. In the 'Talisman Trilogy' I explore how time and cultural beliefs interact and evolve, sometimes resulting in harmony and other times conflict. In the series 'Songs from my Father' I allude to the state of the world, incongruously juxtaposing beautiful lyrics and innocuous images with mass migration and human conflict.
Some of my subjects are people and places that I have known or that speak to me on a spiritual level. My portraits are sometimes painted on heirloom fabrics.
I coordinate an international group of artists with a common interest in Identity and Sense of Place. www.focusonidentity.org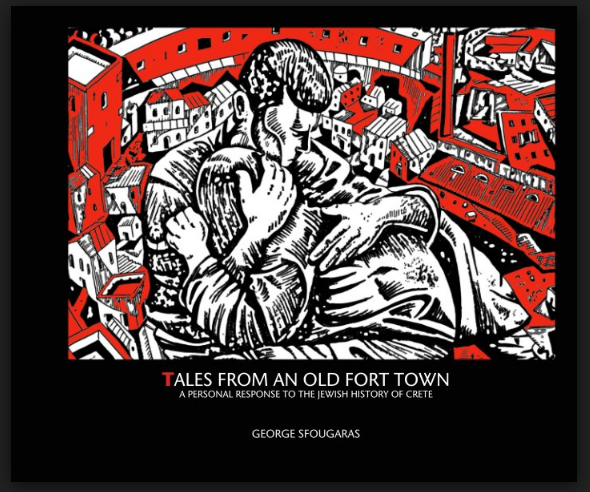 TALES FROM AN OLD FORT TOWN
Exhibition in Chania, Crete, October 2018.
A PERSONAL RESPONSE TO THE JEWISH HISTORY OF CRETE THROUGH ART
(The Old Fort Town referred to is my birthplace of Herakleion,
Crete).

As I prepare for the visit to Crete in October 2018 and the exhibition of prints at Etz Hayyim Synagogue in Chania on the 24th, I am grateful that the little book has been augmented by input from John the editor and supported by the Synagogue director Anja. I was fortunate to be introduced to the talented poet Shelley Tracey, whose poems now accompany the illustrations, adding a new powerful aspect to the book.

The illustrations from the book were used as a backdrop to the Holocaust teacher training event in May in Crete, in memory of Nikos Stavroulakis, who was the driving force behind the Synagogue's restoration. As an addendum to the exhibition of the nine colour Giclee prints, I produced 5 editions of 10 prints, using five of the original drawings that were used to create the illustrations for the book. These are printed in archival ink of Heritage paper and have been posted to Crete.

All the illustrations were originally completed as monochrome pen and ink designs for screen prints. They are an important part of my on-going work into the many histories of the island of Crete. The images are shown here with the addition of colour to be used as illustrations for the book. Later on, they are shown being made into monochrome limited edition prints.

The book is my personal response to the history of the Greek Jewish community of Crete; a community which played an important part in the life of the island but which, through ignorance, racism, and greed, has now all-but-disappeared.

Similarly, Crete's Arab past has all but been buried. That past is examined in my illustrated book 'The Forgotten Conquerors' which I also hope to see published soon.
Read more on my blog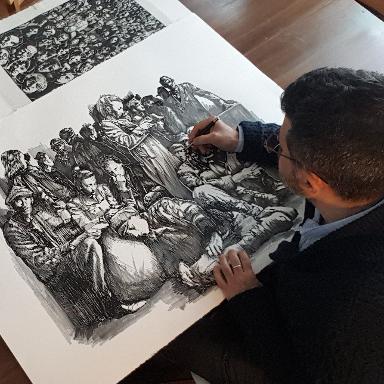 Instagram: https://www.instagram.com/sfougaras/
Blog:http://georgesfougaras.blogspot.co.uk/
10th May 2018
Three Limited edition screen prints based on traditional icons but with hidden elements, are now available on our shop page here and can be shipped to most countries. Thank you for visiting.
WINNER AT CANK STREET OPEN 2018
'Yiayia' (Grandmother), is a small painting in acrylics on canvas completed in December 2018 and measuring 50 x 40 cm approximately. This work is now available for a limited time at Cank Street Gallery, Leicester from June 6th.44-46 Cank Street Leicester LE15GW art@cankstreetgallery.co.uk 0116 2530313 The painting won the second prize in this year's Cank Street Open Exhibition.
SOLD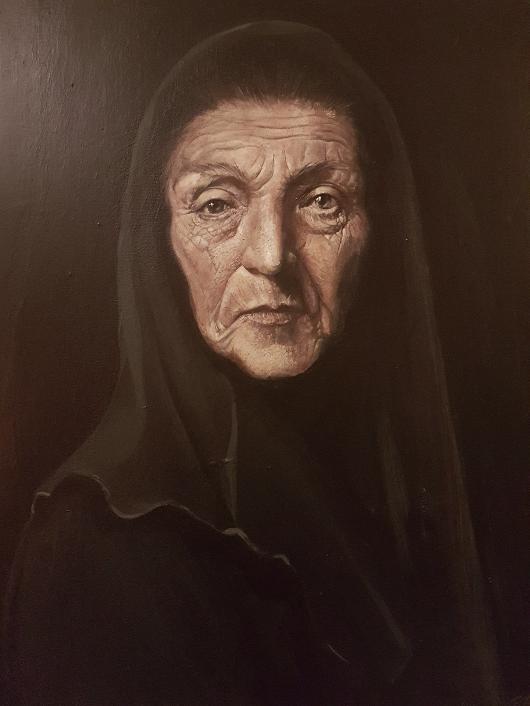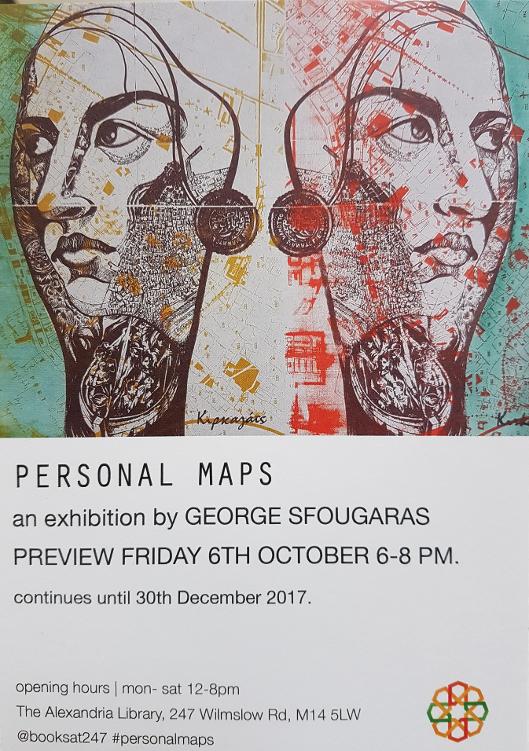 The exhibition is now over, but the works shown can still be seen in the 'Personal Maps' book on the 'Books' page.
THE STUDIO IN POTAMIES, CRETE
THE STUDIO IN LEICESTER UK
I studied Fine Art at Trent University in Nottingham where I specialised in painting and printing. Although I mainly paint and have sustained my practice throughout my teaching career, I have found that being a member and having a studio at the Leicester Print Workshop have been important in helping me to re-establish my printing practice. I also work in wood, sculpt and I occasionally make automata.