It was my honour to be back in Heraklion, Crete in July 2018 and contribute to the Arts Festival with this mural. This island has always been at the crossroads of three continents. The little boats with the leaf sails and the new seeds arrive on the waves of Crete's blue-black hair. On the other side, beautiful flowers spring from newly settled homes. We are one. #peace #love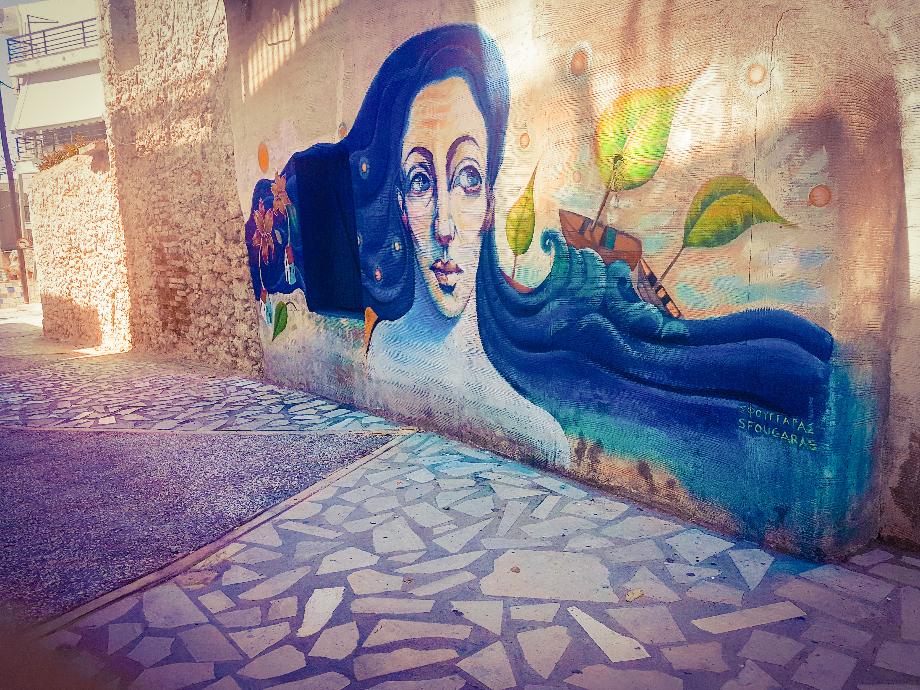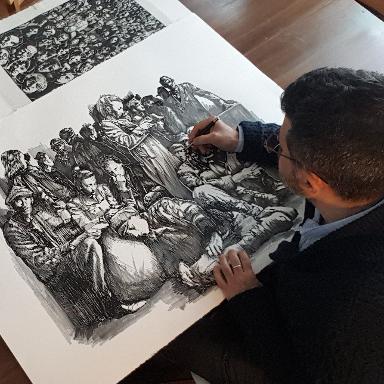 Instagram: https://www.instagram.com/sfougaras/
Blog:http://georgesfougaras.blogspot.co.uk/

Since 2017I have the pleasure and the honour to be a part of the FOI collective, alongside 18 other artists from 12 countries. You can see our work at www.focusonidentity.org
10th May 2018
Three Limited edition screen prints based on traditional icons but with hidden elements, are now available on our shop page here and can be shipped to most countries. Thank you for visiting.
WINNER AT CANK STREET OPEN 2018
'Yiayia' (Grandmother), is a small painting in acrylics on canvas completed in December 2018 and measuring 50 x 40 cm approximately. This work is now available for a limited time at Cank Street Gallery, Leicester from June 6th.44-46 Cank Street Leicester LE15GW art@cankstreetgallery.co.uk 0116 2530313 The painting won the second prize in this year's Cank Street Open Exhibition.
SOLD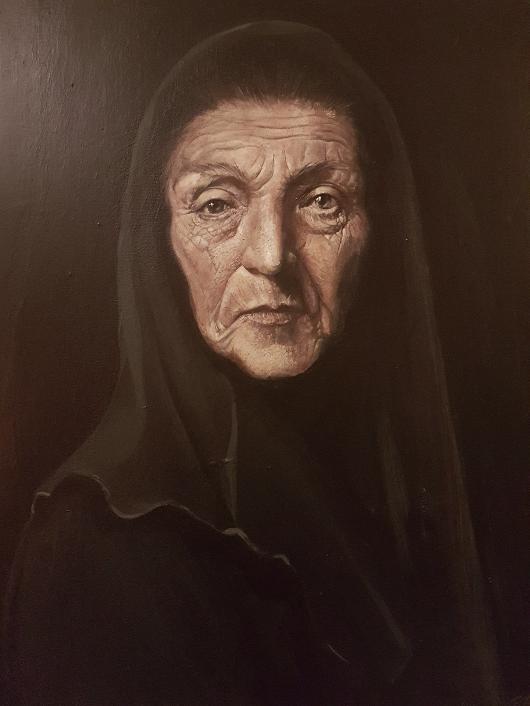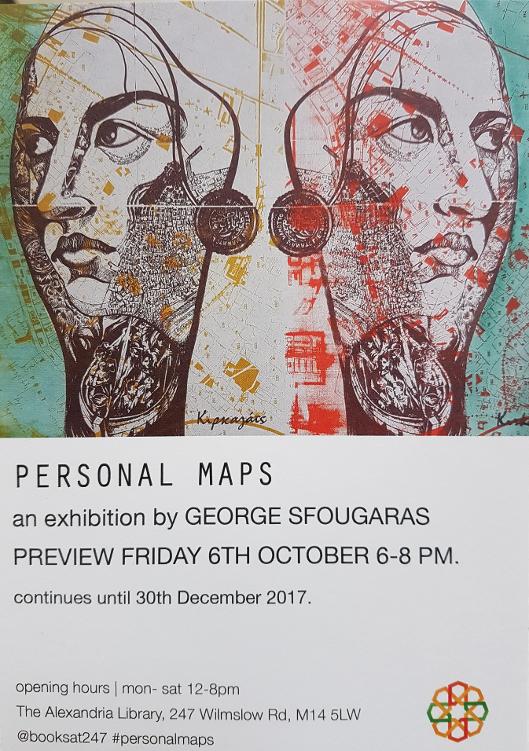 The exhibition is now over, but the works shown can still be seen in the 'Personal Maps' book on the 'Books' page.
Thank you for visiting my website. Art is something which gives meaning to my life and enables me to look beyond the ordinary, expressing ideas and feelings that I hope resonate with others.
I was born in Crete and have lived in England since my early teens. I taught art for many years in a variety of settings, undertook research and developed curricular materials which sought to broaden schools educational offer and to encompass a global perspective. I have worked in school leadership teams, and most recently as a head teacher. I carried on painting throughout my career and since 2015 I have been fortunate to be able to dedicate my time to making art.
Cultural Geography and History are significant sources of inspiration as well as broader global events, politics, gender, religion and human relationships. I know after many years of making art that if it is not felt in the heart, it will not look or feel right on paper.
The main concepts in my work are time and our distinct or shared beliefs. I am interested in the way these elements interact, creating wonder and other times chaos. Some of my work is purely personal, expressing what moves me, what I love, or feel strongly about. Some of my subjects are people and places that I have known or which appeal to me on a spiritual or aesthetic level.
I also paint people whose lives are known to me only by conjecture and by virtue of our shared humanity. Other times the commentary alludes to the state of the world, as in my series of works entitled 'Songs from my Father' where the beautiful lyrics and innocuous images refer to mass migration and human conflict.
I try to understand and express what it feels like to be part of an ephemeral, complex, beautiful and sometimes challenging and painful continuum. I hope that something here will speak to you.
THE STUDIO IN POTAMIES, CRETE
THE STUDIO IN THE UK, CULTURAL QUARTER LEICESTER LE1 1QG
I studied Fine Art at Trent University in Nottingham where I specialised in painting and printing. Although I mainly paint and have sustained my practice throughout my teaching career, I have found that being a member and having a studio at the Leicester Print Workshop have been important in helping me to re-establish my printing practice. I also work in wood, sculpt and I occasionally make automata.