DUE TO POSTING AND PRODUCTION LIMITATIONS IMPOSED BY THE PANDEMIC, PLEASE DO NOT ORDER FROM THE ONLINE SHOP. CONTACT ME VIA THE CONTACT FORM ON THIS SITE INSTEAD AND I WILL DO MY BEST TO HELP. THANK YOU.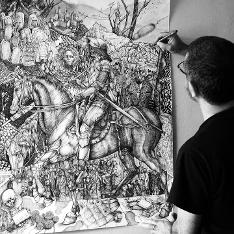 March 2020'The City of Leicester Museum Trust agreed to support the acquisition of the Durer-inspired work by George Sfougaras'.
I had some wonderful news last week. My drawing 'Knight, Death and the Devil, Reinterpreted' will be now be part of the New Walk Museum's permanent collection. It can currently be seen in the German Expressionist Gallery.
Winter in Jerusalem
I was invited by Michal Elbaz to film in Jerusalem during January/February 2020. The materials gathered resulted in four short films under the working titles of 'Home', 'Appearances', 'Memories' and 'Family'. Some of the resulting footage will be screened alongside the project ' Jerusalem Grandmother's Stories' conceived by acclaimed theatre director Adina Tal. In this production, Adina works with several women across the religious and socioeconomic strata of Jerusalem in a series of staged dialogues and reflections. The project aims to show the commonalities, dreams, friendships and shared memories of Arab and Jewish women who have experienced the great changes within Jerusalem since the 1960s. The play premiere is on the 3rd March 2020 at the Jerusalem Khan Theatre (תיאטרון החאן - Teat'ron HaKhan, "The Caravanserai Theatre").
2019 was an amazing year of residencies, public commissions, and exhibitions. The travel and work created both in the UK and elsewhere have nourished and challenged me. It was however the people I met and worked with this year were the real highlights of 2019. I learned a lot and I am moving on with great anticipation as I continue to work on next year's plans.
In 2020, two international residencies, a large public commission and several other projects await are so far planned. I feel very lucky to be living this life and to be invited to do so many wonderful things. It really feels like a beautiful dream.
Bellow are some of the places I will be showing/working in 2020.
January 2020. The Bishop Guli Portrait: World Arts Gallery New Walk Museum, Leicester. Commissioned banner entitled 'Unwritten' displayed on the Sanctuary Wall in the main gallery. Talk concerning my loaned drawing, the Knight, Death and the Devil, housed in the German Expressionist Gallery until April 2020. New Walk museum. February: Residency in Jerusalem. Editing of film and creation of work. March: Commission for De Lisle College Loughborough. The Catholic Spirit of the College. March: Working with students at Fermynwoods Centre, Northampton. April: 'The Story so Far' Series of pen and ink drawings, for exhibition in 2021. May: George Davies Centre, Leicester. Formerly the Centre for Medical Research. New Board games designed around current research. June: Arthouse Leicester. A now famous exhibition in beautiful homes in Stoneygate and Clarendon Park, Leicester. July: Residency at House Ohrbeck, Osnabruck. Art and Religion. July-August: Journeys Festival International. September: TBCOctober: Working at the Studio in Crete. November: Completion of body of work for exhibition. December (Provisional): Barcelona, International Place Branding Association (est. 2015) - is a non-profit independent association of academics and professionals involved or interested in the principles and practices of brand development and brand management for places (cities, regions, nations and destinations).
WELCOME
I hope that you find something that speaks to you.
George Sfougaras 2019
CLICK IMAGE ABOVE TO PURCHASE CATALOGUE.
Free postage.
The Exhibition has now closed, but some of the work can be seen at Portsmouth Cathedral during October 2019. You can also read the project evaluation by clicking on the image above.
RECOVERED HISTORIES EXHIBITION
An exhibition of large works in iconic places within Leicester City: Leicester Museum, Leicester Cathedral and Curve Threatre. A major multimedia exhibition at LCB Lightbox Gallery. Part of Journeys Festival International 10th to 30th August 2019. Examples of work shown below. Click on the images to enlarge.
An exhibition of new drawings, and mixed media works by George Sfougaras extending the artist's work into new print methods and materials, some animated though light and film.
'Recovered Histories' comments on shared human history, addressing change and reconciliation. Layers of meaning are created through the symbolic use of pattern and light, combined with artwork and archival materials from displaced families.
Several larger works can also be seen in Leicester Cathedral, Leicester New Walk Museum, The Curve Theatre, Leicester Print Workshop and several community centres and libraries in Leicester throughout the Journeys International Festival 10th - 30th August.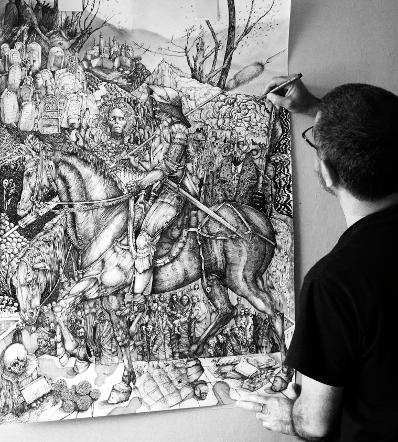 Work in progress on my pen and ink drawing, entitled: The Knight, Death and the Devil 2018 (after Durer). November 2018.
You can read a detailed description of this work on my blog by clicking on the above image.
Follow me via Instagram and my Blog. (Click on the logos below to be redirected).
George Sfougaras is the coordinator of the international Focus on Identity Collective. (Click on the logo below to be redirected).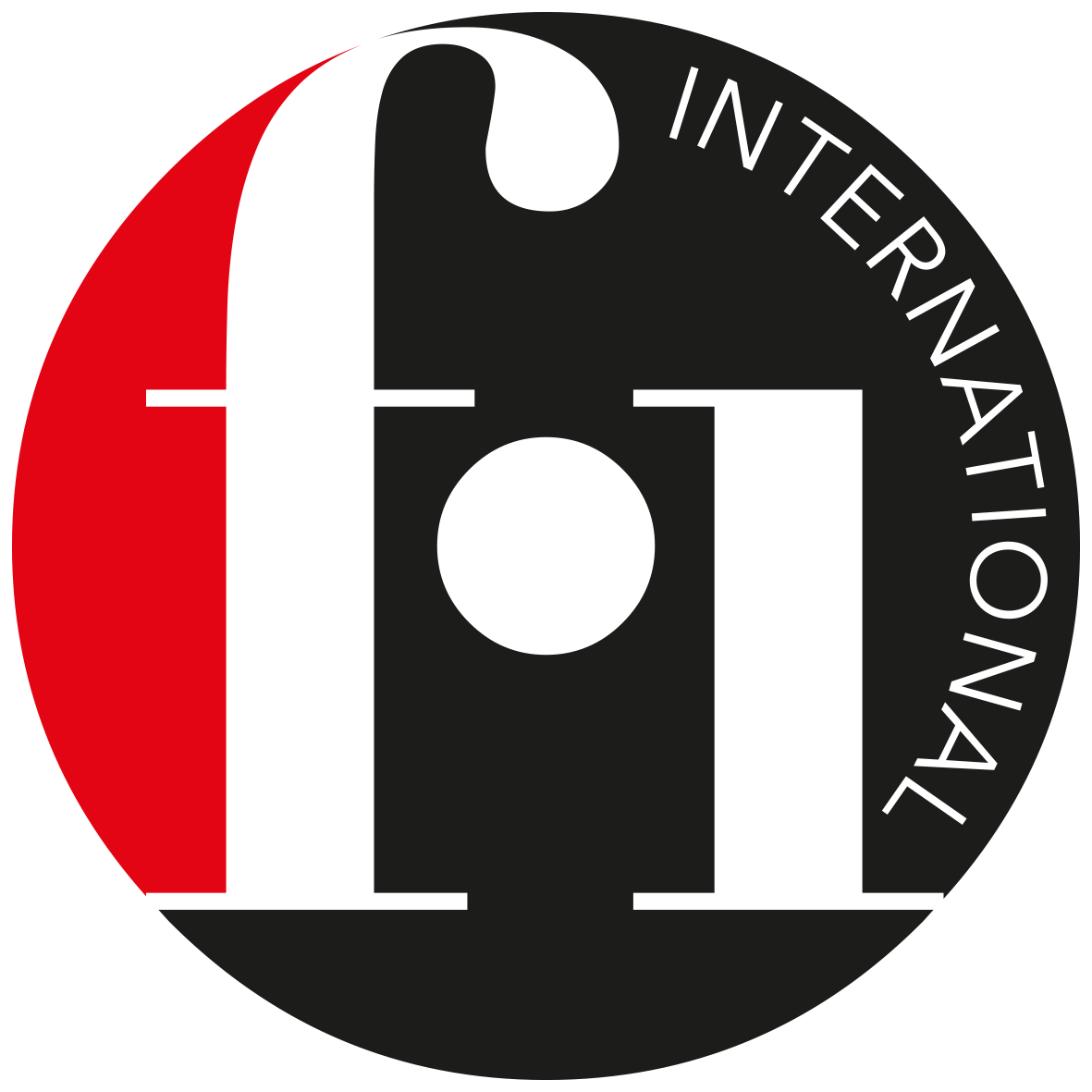 Themes
Cultural Geography and History are significant sources of inspiration as well as broader global events at the intersection of politics, geography and religion. My current work explores lost histories with the outcomes expressed as paintings, pen and ink drawings, prints or books.
I tend to work in themes. In the 'Talisman Trilogy' I explore how time and cultural beliefs interact and evolve, sometimes resulting in harmony and other times conflict. In the series the 'Songs from my Father' prints I allude to the state of the world, incongruously juxtaposing innocuous images with mass migration and human conflict. In 'Personal Maps', I explore how emotions, geography and history can be narrated and 'mapped' within the same piece of work, accruing several layers of meaning.
Some of my subjects are people and places that I have known or that speak to me on a spiritual level. I use materials which are of significance to the sitter and recently my works have objects concealed within the painting surface.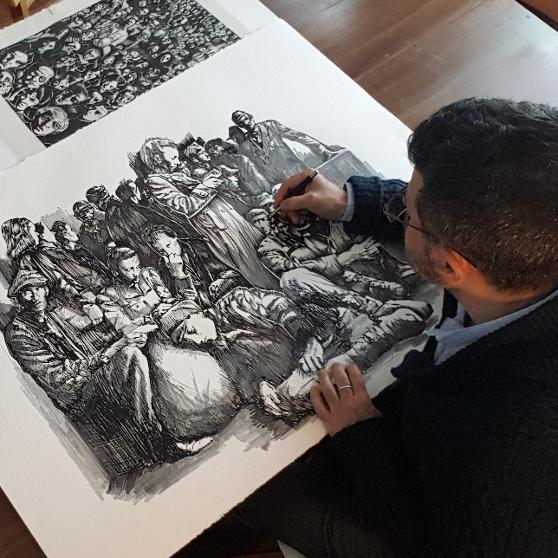 THE STUDIO IN POTAMIES, CRETE
THE STUDIO IN LEICESTER UK