Tales from an Old Fort Town
A personal response to the Jewish History of Crete through art
The publication can only be ordered from Etz Hayyim Synagogue in Crete. All proceeds go towards the maintenance of this important monument, a place dedicated to peace and reconcilliation.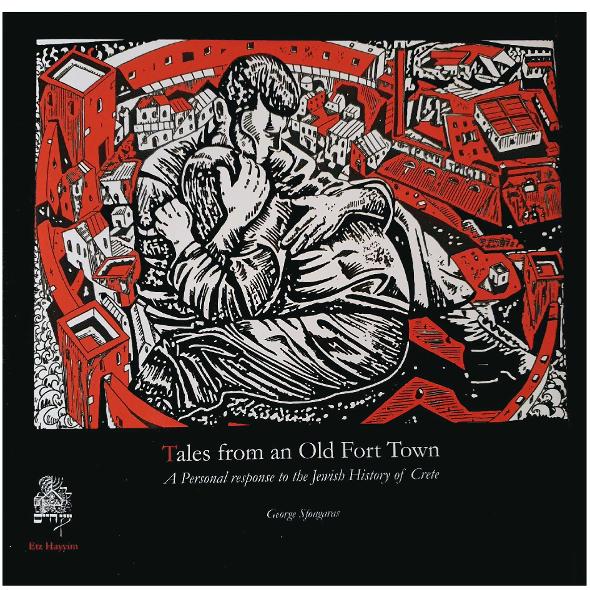 This book is my personal response to the history of the Greek Jewish community of Crete; a community which played an important part in the life of the island but which, through ignorance, racism and greed, has now disappeared.
The community had been so thoroughly eliminated that I had to search long and hard to find its few remaining traces. My motivation for making this book is so that the Cretan Jewish community is remembered and the hate that destroyed it is recognized and addressed. I do not purport to have written a detailed or complete history of the community. Far from it, in fact. This book is not an academic historical work; if I had to define it I would say it is a brief personal tribute, an echo of a Greek community that is no more and a work of love for the island of my birth.
All the illustrations were originally completed as monochrome pen and ink designs for screen prints. They are an important part of my on-going work into the many histories of the island of Crete.
The Jewish Virtual Library (https://www.jewishvirtuallibrary.org/crete); Zvi Ankori, "From Zudecha to Yahudi Mahallesi: The Jewish Quarter of Candia in the Seventeenth Century," Vol. 1, pp. 63-127, Salo Wittmayer Baron Jubilee Volume, American Academy for Jewish Research, Jerusalem, 1974; and Nikos Stavroulakis writing on the Etz Hayyim web site (http://www.etz-hayyim-hania.org/) have been major sources of information for this book and are referenced whenever quoted.
The Old Fort Town referred to is my birthplace of Herakleion, Crete.
I was fortunate to experience Shelley's work in another collaborative project and I became aware of the honesty and integrity of her words. I asked her if she would be willing to respond to the images I created for the 'Tales from an Old Fort Town' and I was both elated and grateful that she agreed. I feel Shelley's poetry is compelling, heartfelt and special. I know that reading these beautifully crafted poems alongside the images in the book will create something beyond and above my original intentions. I hope the power that flows from her words will touch and inspire you as it did me. Thank you Shelley.
George Sfougaras, 2018