The Hagiography of the Ordinary 2022-23
Exhibition with other AA2A artists at Martin Hall Gallery May 16th to June 9th 2023. Gallery open weekdays 12.00-200 pm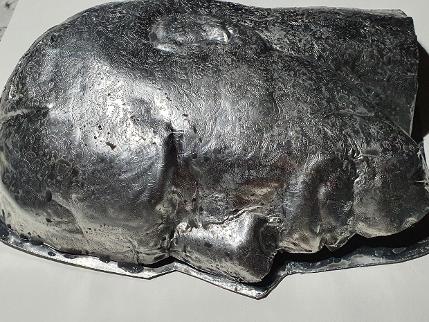 'The Hagiography of the Ordinary'.
The silver is a memory, a symbol and an aesthetic element, its reflective surface multiplying the light cast upon it. It still holds that sense of magic for me, the spark of something indefinable in an otherwise dark sombre space. The silver is a pictorial element as well as a symbol, a metaphor, elevating the meaning of parts of the work, bringing them into focus, as well as posing important questions: What do we revere, value and hold dear. How do we meditate on what we need, what we are lacking? How can we ask for help and from whom? Finally, what is within our control?
I recently started to review or somehow improve some old works. In between some of the aforesaid came a number of other themes and projects such as 'Personal Maps' and 'Recovered Histories' and several museum commissions and residencies. This review of old work revealed a theme which has driven interesting experimentations and ideas. It goes as far back as my teacher training days when in one of the assignments, we had to explain an artefact or 'art system'. I created an 'altar' and an 'icon' both of which included authentic elements and 'distortions' of their conventional forms. So that must have been the first attempt to create work about Religion, what it meant and how a departure from the conventions 'neutralised' the meaning of the icons and rendered the associated devotional rituals equally meaningless. (In the traditional form of worship).
I also realised that there are references to Orthodox Christianity in a considerable number of my works. If one looks carefully there are allusions to religion, faith and spirituality, and how they manifest themselves in our daily lives.
When immigrants from Greece and Cyprus first arrived in the UK they congregated around the church. It was so with me, in the first few years of my life in 1970s Nottingham. With time traditions and religion have become less important in my life, primarily because I am not attached to a particular community, but also because of my own disposition and family background.
All the same, my sense of who I am has been shaped irrevocably by my childhood in Greece and a religious upbringing, where the year was defined by religious observance, festivals, symbols and of course the theatricality of the Eastern Christian church rituals, vestments, and culture. Until my mother's death in 1996, those observances were hardwired into our daily lives. Each day of the year is a Saint Day, the seasons bring the Conception, Birth, Death and Resurrection; the food is designed to reinforce remembrance, celebration, abstinence and fasting. Even Death has his own dish in Greek culture, made of wheat kernels which have been boiled until they are soft, they are drained very well and spread on a cloth to be just moist, and then sweetened with honey or sugar. Often with small bejewelled with small hard silver spheres.
It occurred to me at the time of writing, (which coincided with the attempt to make artworks incorporating silver metallic finishes) that much of what I was making was referencing a feeling of the divine and of magic, the rich reflective quality of precious metals decorating the icons, or hanging over them, as thousands of mass-produced precious metal and less expensive silver plated tin votive offerings, hang around the interiors, a sign of people's dialogue with greater power. These recent works incorporating metal reference my religious upbringing, but they are now a way of underscoring the importance, one might say the extraordinary in the act of living. They see it as sacred as life itself, and our perceptions of the world, a painful or a treasured memory, a newsworthy event, a beautiful poem, a feeling of spirituality, a destructive war, my parents' lives, and love. Hence the title: 'The Hagiography of the Sacred'.
Click on the image of the for a more detailed theoretical framework of the project.