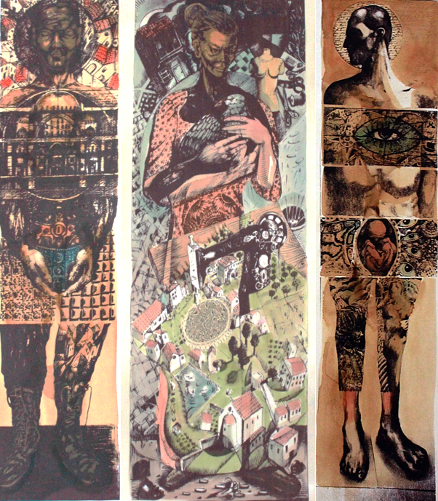 Talisman
This is one of three long hand painted screenprints measuring 111 x 38 cm 111 x 45 cm hand coloured screen prints; editions limited to six hand-painted copies only. It is part of a Trilogy symbolising cultural exchange and depicting personal memories of a childhood, which was rich in stories and folklore.
A Talisman is any object which is thought to have magic powers and to bring good fortune.
I have been fascinated since childhood by the silver votive offerings that are used to ask for the divine intervention in the Greek Orthodox Church. The idea that an object could act as a conduit to a greater power is what appeals to me; the concept of faith, of asking for help and healing is a compelling idea, even if over the years my Orthodox faith has become diluted. There are some interesting similarities with the Talisman, the constant divine protector and communication line to a greater power. The concept, of course, is both compelling and unbelievable, perhaps an example of the application of particle physics on perception?
Panel 1 started as a figure study from a photograph and then transformed into a series of segments which roughly corresponded to the human figure. Ottoman maps of Constantinople, apotropaic eyes (used in both Greek and Turkish cultures to 'ward off' evil) are a recurrent theme in this and other print designs. The embryo alludes to the way we evolve as people depending on our biological and cultural inheritance. 'Nodes' connect the foetus with knowledge which depending on the source is deemed culturally significant.
While making this work, I made notes of my references and thoughts. I felt the need to follow the theme of 'mapping' as a process and an idea. I was thinking about the genetic code that shapes its life and even the architecture of the brain. Recent research in the area of behavioural genetics suggests that parental knowledge and trauma can be transmitted biologically to our offspring. I have been exploring that thesis in some of my 'maps' and other unrelated paintings and narrative works such as 'Memories from My Father' (not shown).
Other elements in this drawing are: 'Mediterranean' man, based on an illustration from my second year Anthropology textbook; a map of Constantinople/Istanbul, designed in 1422 by Florentine cartographer Cristoforo Buondelmonti - the oldest surviving map of the city; Da Vinci's study of an embryo; Mehmet II.