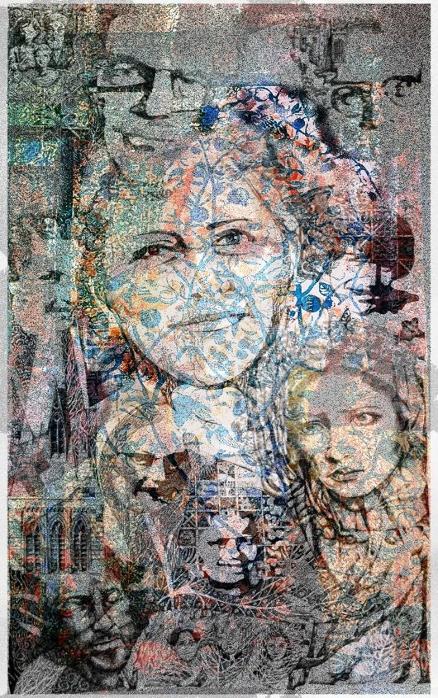 A NARRATIVE PORTRAIT OF BISHOP GULI FRANCIS-DEHQANI
Banner on composite material.
The images on the banner are constructed using patterns that draw from Bishop Guli's background and upbringing in Iran before the 1979 revolution, the Christian faith central to her life and family photographs. It incorporates the symbolic use of natural forms alluding to strength, growth and the yearly cycle of resurrection in the natural world and within ourselves. Other images on this piece are based on photographs kindly shared with me by Bishop Guli, material and extracts from her father's 2000 autobiography (The Unfolding Design of My World: A Pilgrim in Exile – by Hassan Dehqani-Tafti) and verses from the Bible. Quotations include verses from Isaiah, Psalms, Corinthians, Romans, and Revelation. The writing sits beneath the other visual elements as a way of adding depth and tonal range. Other imagery includes the tower of Leicester Cathedral and the faces of Mary and Jesus representing the Pieta, the cycle of Pain, Hope, Resurrection and Transcendence which also reflect the stages of recovery from traumatic events, namely to Succumb, Survive, Recover, and Thrive.