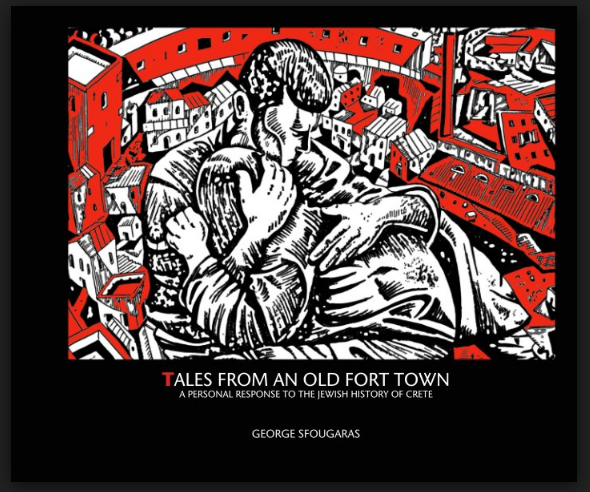 SEPTEMBER 2018
A PERSONAL RESPONSE TO THE JEWISH HISTORY OF CRETE THROUGH ART
(The Old Fort Town referred to is my birthplace of Herakleion,
Crete).

As I prepare for the visit to Crete in October 2018 and the exhibition of prints at Etz Hayyim Synagogue in Chania on the 24th, I am grateful that the little book has been augmented by input from John the editor and supported by the Synagogue director Anja. I was fortunate to be introduced to the talented poet Shelley Tracey, whose poems now accompany the illustrations, adding a new powerful aspect to the book.

The illustrations from the book were used as a backdrop to the Holocaust teacher training event in May in Crete, in memory of Nikos Stavroulakis, who was the driving force behind the Synagogue's restoration. As an addendum to the exhibition of the nine colour Giclee prints, I produced 5 editions of 10 prints, using five of the original drawings that were used to create the illustrations for the book. These are printed in archival ink of Heritage paper and have been posted to Crete.

All the illustrations were originally completed as monochrome pen and ink designs for screen prints. They are an important part of my on-going work into the many histories of the island of Crete. The images are shown here with the addition of colour to be used as illustrations for the book. Later on, they are shown being made into monochrome limited edition prints.

The book is my personal response to the history of the Greek Jewish community of Crete; a community which played an important part in the life of the island but which, through ignorance, racism, and greed, has now all-but-disappeared.

Similarly, Crete's Arab past has all but been buried. That past is examined in my illustrated book 'The Forgotten Conquerors' which I also hope to see published soon.
Read more on my

blog
JULY 2018
It was my honour to be back in Heraklion, Crete in July 2018 and contribute to the Arts Festival with this mural. This island has always been at the crossroads of three continents. The little boats with the leaf sails and the new seeds arrive on the waves of Crete's blue-black hair. On the other side, beautiful flowers spring from newly settled homes. We are one. #peace #love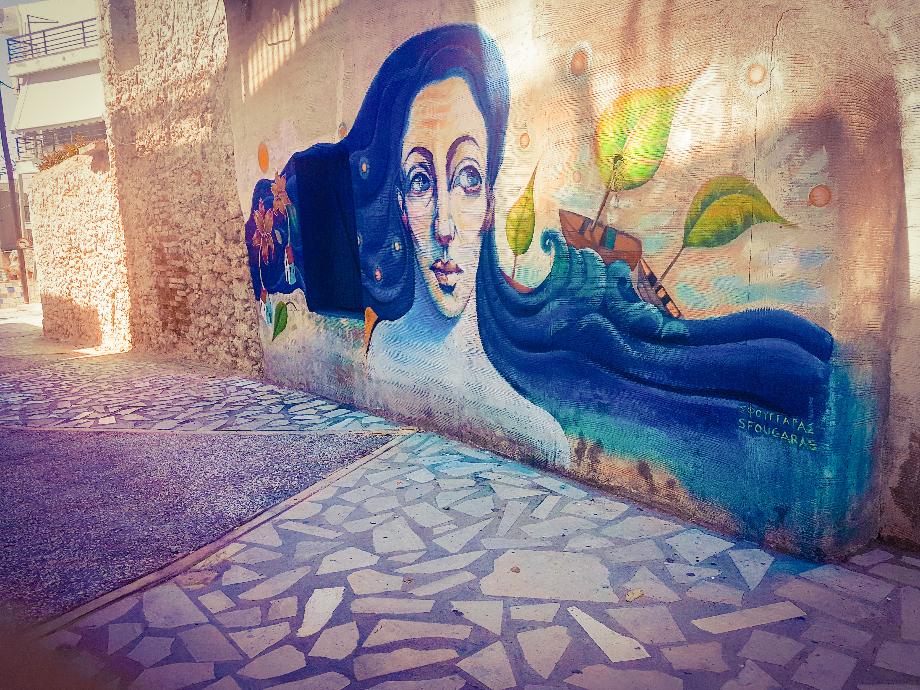 JUNE 2018
WINNER AT CANK STREET OPEN 2018
'Yiayia' (Grandmother), is a small painting in acrylics on canvas completed in December 2018 and measuring 50 x 40 cm approximately.
Cank Street Leicester LE15GW art@cankstreetgallery.co.uk 0116 2530313 The painting won the second prize in this year's Cank Street Open Exhibition.
SOLD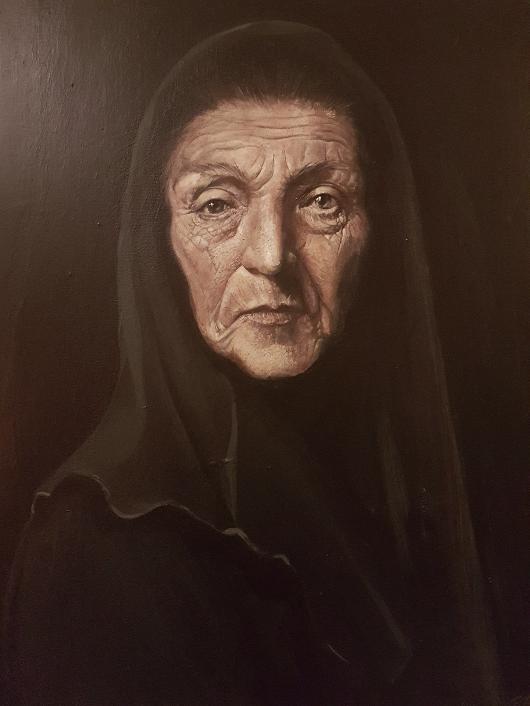 JUNE 2018
JOURNEYS FROM HOME RUGBY MUSEUM. THREE OF MY PRINTS WILL BE SHOWN ALONGSIDE THE IMPORTANT ARCHIVAL COLLECTION ON MIGRATIONAT RUGBY MUSEUM.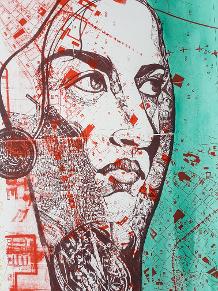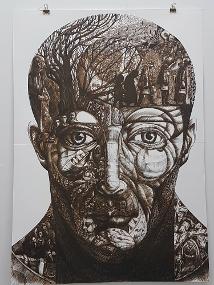 MAY, JUNE, JULY 2018 CRETE
AN EXHIBITION OF MY PRINTS AT ETZ HAYIM SYNAGOGUE, CHANIA, CRETE, IN THE CONTEXT OF A TRAINING EVENT FOR GREEK EDUCATORS.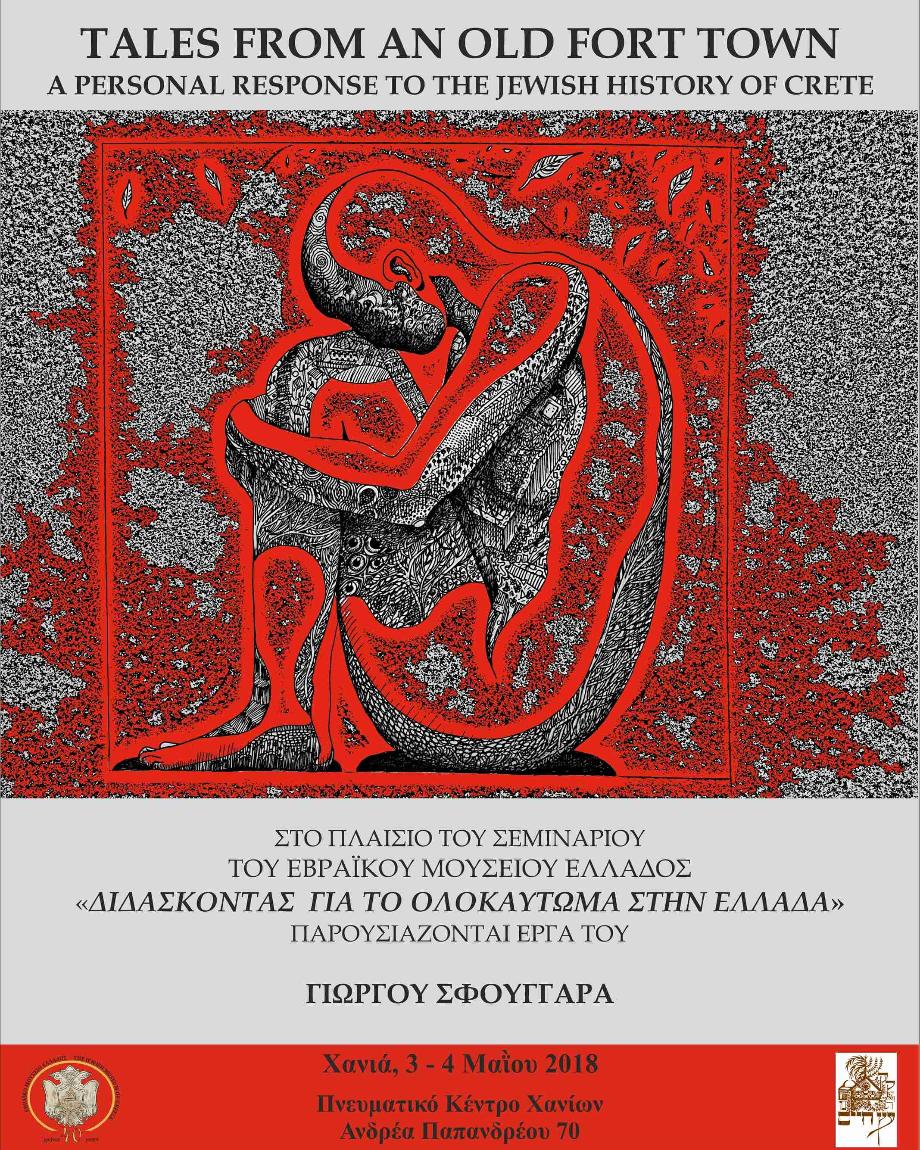 MARCH 2018 LEICESTER
THE INSTALLATION OF SEVEN LARGE BANNERS FROM ORIGINAL PEN AND INK DRAWINGS AND PRINTS AT RUSHEY MEAD ACADEMY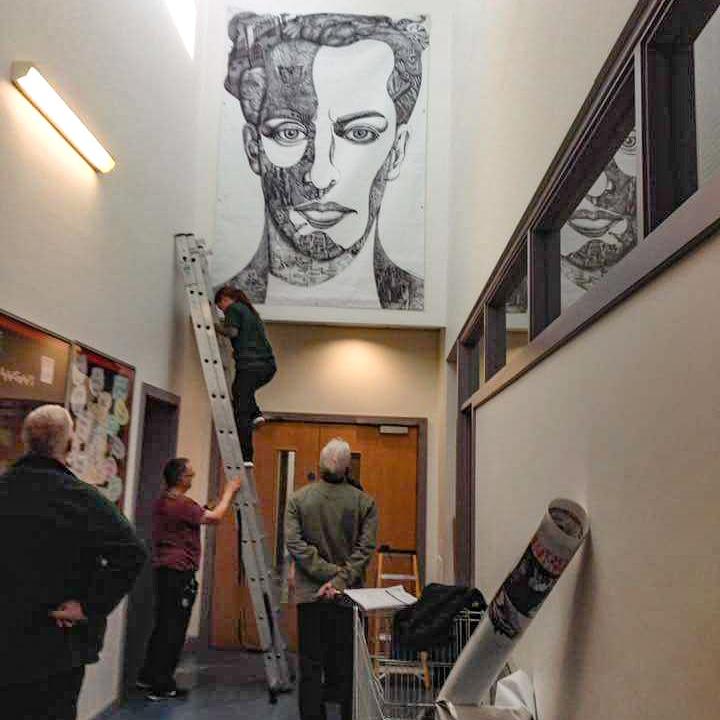 MARCH 2018 MALTA
WORK SELECTED AS PART OF THE ARCHIPELAGO INSTALLATION, VALLETTA, MALTA.
'MY PERSONAL MAP OF HERAKLION'.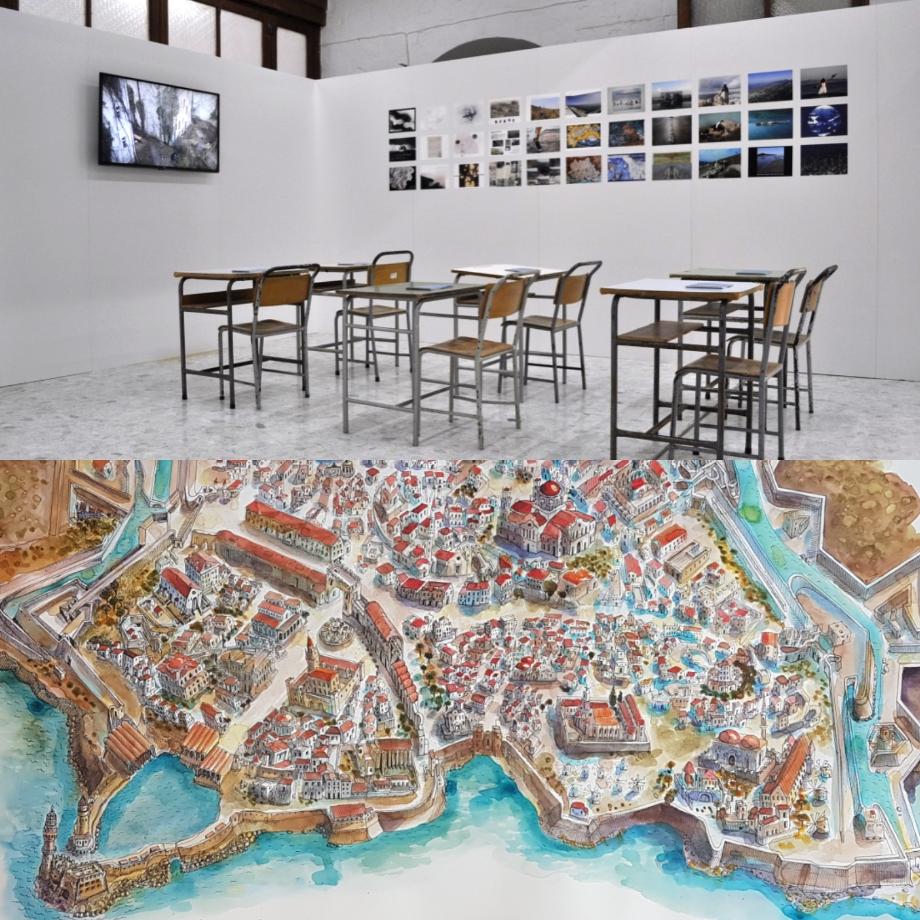 OCTOBER 2017
Delighted to be showing selected works from the 'Personal Maps' series, at the wonderful Alexandria Library, Wilmslow Road, Manchester from October until December 2017.
The exhibition is now over, but the works shown can still be seen in the 'Personal Maps' book on the 'Books' page.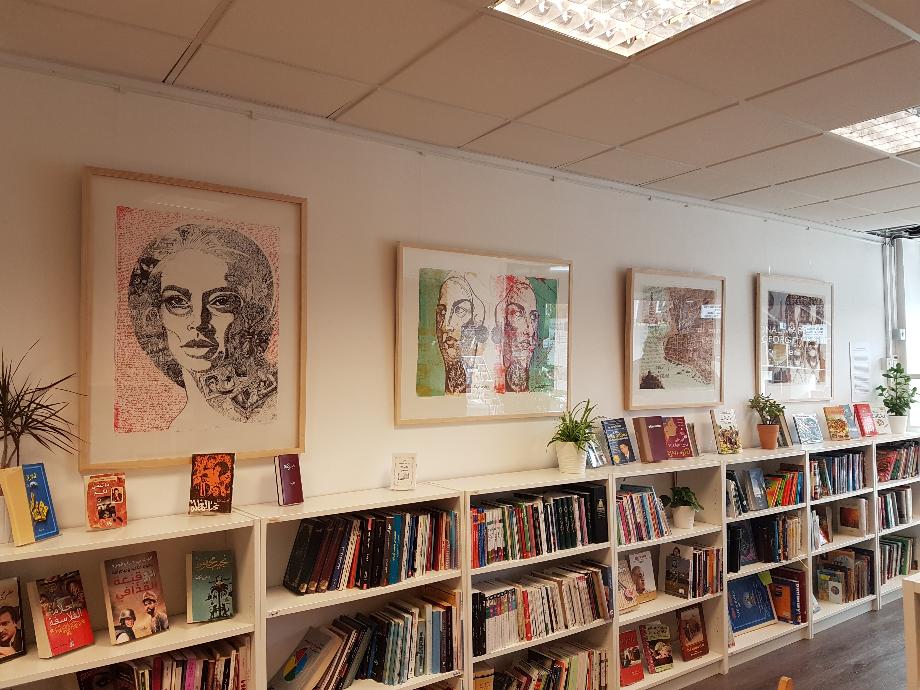 March 2017.
Details of my first curatorial project: 'FOCUS ON IDENTITY' can be seen here:
http://www.curatorspace.com/opportunities/detail/focus-on-identity/1142
My research and practical work are beginning to focus on the formation and expression of personal, religious and cultural identities. I have begun to exhibit and comment on the work that I generate in the form of blogs and publications.
'Focus on Identity' is my first curatorial project, which I am hoping to link to my academic work and grant applications, if successful.
My ultimate aim would be to produce a more cohesive body of practical and written work which focuses on the way we map our past and immediate experiences in the works that we generate. My most recent attempt has been 'Personal Maps' a book of limited edition works around the themes of Sense of Place and Identity.
I am interested in how artists acquire, process and disseminate their cultural inheritance. I would like to understand what forces, overt and covert cultural norms and symbols affect artists; and in what ways we form, retain and 'curate' inherited histories within our art practices.
November 2016 Awarded the prize for 'Ideas-on-Paper' for the print Smyrna/Izmir exhibited at the Malt Cross Midland Printmakers Open
November 2016 Work showing in the Leicester Society of Artists Annual Show at Newark Museum
November 2016 Work selected for Passion to Print, showing at LCB, Lightbox and Leicester Print Workshop.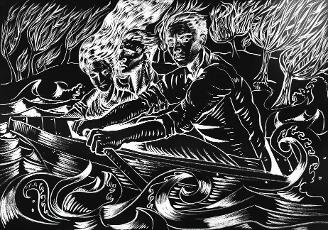 SONGS FROM MY FATHER
Inspired by the beautiful songs of my childhood
420 x 594 mm Screenprint based on original pen and ink drawing Edition of 6.
October 15th 2016: This came today, completely unexpectedly but I am very happy about it!
"You have been selected as a finalist in the "Capturing Human Rights" art contest".
The print selected is 'Songs from my Father'. Click on the selected image of the print above to find more about Freedom House.org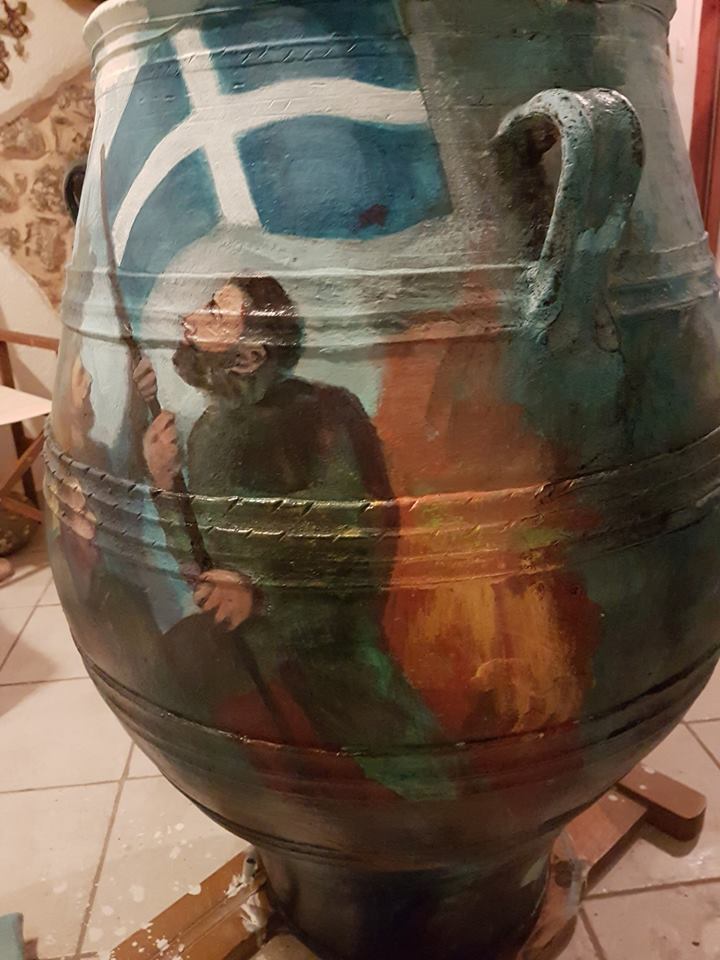 4 September 2016
George Sfougaras is doing some voluntary work;
Painting murals and other decorative arts work in Potamies, a little village in Crete to improve the local environment and for the local village memorial. Cliick on the image above to find our more.
Some photographs from the summer of 2016.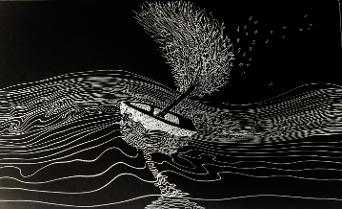 'Little Hope' Digital edition 2015