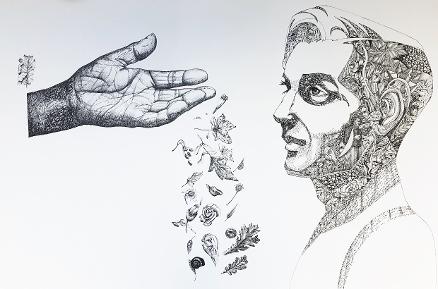 'GIFTS'
Pen and ink drawing
A speculative poem written by an envoy to the Byzantine court describing a dispossessed people from an area near ancient Babylon, traditionally seen as the cradle of civilisation. Successive military disasters had transformed the area and forced thousands to migrate.
(G. Sfougaras, inspired by Constantine Cavafy's historical narratives).
'The local peoples perceived not the gifts for they were hurried to them by other means than those they considered proper.
The gift bearers were not of royal stock, nor were they demonstrative in behaviour or deed. Their giving was not accompanied by the sound of trumpets nor singing, but by the quiet lament of the dispossessed.
These frightened men and women whose country no longer existed brought knowledge and their humanity, but their poverty was the aspect that was seen above all else, and by which they were defined.
Their inheritance, the history of many great achievements was now only currency. Sadly, their gifts were not recognised nor appreciated, buried as they were under the rubble of war and destruction and belatedly, prejudice.'
The drawing comments on what we consider important or worthwhile. Constantine Cavafy had a great talent for bringing the distant historical past to life, and I used his approach here to make a particular point.