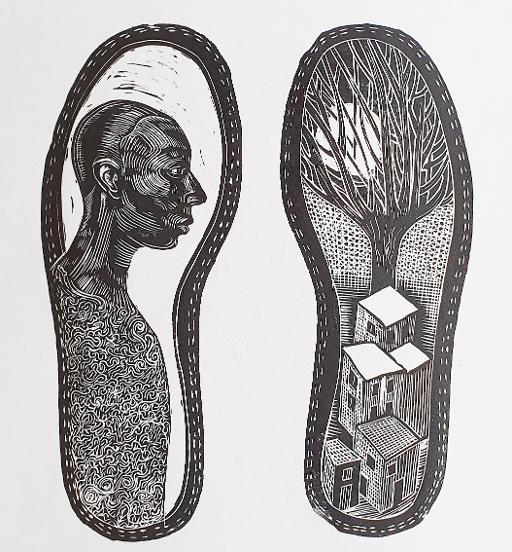 'GEDLING'
Latitude, longitude : 52.975313, -1.090608




Engraved relief print on 1960s workboot soles. Carved with pheil tools, printed on Awagami Hosho Select Japanese stock. Speedball professional relief ink.
It seemed like a simple idea, but it clearly went beyond the ordinary. I posted the engraved soles and the imprint on various social media platforms, where the reaction was in some cases extraordinary. Maybe it touched something beyond the inventiveness of using a previously unused surface as the printing plate? I hope so.
I like the image for its powerful simplicity and the mixed messages it communicates. Shoes are both symbols of journeys and yet they are also defiled by the act of being trodden on. They are destined to walk on the ground, picking up the dust and detritus of the sidewalk. They are unseen, these neglected soles. Despite that they are essential. They form the base of our physical being. They protect us from harm. They are both unimportant and indespensable. Under these shoes, the neglected and downtrodden soles suddenly became 'art'. I liked the dichotomy, the dialectic of this juxtaposition.
I had some old late 1960s synthetic under soles from work boots, a remnant of the days when things like that appeared in my studio and sat there waiting for the perfect moment. It seemed to me that after the events following the death of George Floyd, a kind of mass catharsis started to take place on social media. I have worked in environments where a student's background is of paramount importance to the progress and life circumstances of students. I saw many people I knew divulge their pain and distress, their anger. Hidden stories surfaced. The soles of the metaphorical shoes were exposed. Illuminated. High contrast. Of course, a lot of what was happening had always been there, hidden, menacing, and unseen, but leaving these tracks on the environment, on society, and, of course by inference on individuals, including me.
Trump's rhetoric of hate and division had at the time (and of sadly it will not be easily dispersed) formed an obnoxious cloud cover, camouflaging anger, racism, and frustrations; allowing them to come to the surface and challenge decades of hard-won, small but important changes in behaviours and attitudes. I am aware that other countries and contexts are even more problematised than the UK. The United States for example; Trump's defeat at the polls has allowed this vile miasma to be less oppressive, less backed by political power, ignorance, and neglect. I write with at least a lighter heart, but I am not feeling secure yet.
I too was left with a feeling of having suppressed memories, for the sake of getting on with my life and in order to function. I was also surprised to find that when people spoke of difficult experiences, I could relate, despite the fact I had in fact been given many opportunities and had been very fortunate professionally. My life and circumstances are one would say comfortable and blessed. Yet, that niggling feeling of the accumulation of unchallenged microaggressions that for four decades were swept under the carpet, the painfully, ignorant statements of good intent the underlying xenophobia, the awkward silences...all came knocking. No life is ideal, but a life lived in some fear for your well being, whether emotional or physical, leaves marks.
It was in that spirit that the 'Gedling relief print was carved into the work boots, as a reminder and an echo of my time living in Gedling, in the early '80s, a place still referred to itself as a mining village.
The print is about those cold winter mornings when walking to college, I had this feeling of being the 'other'. Of the 'other' being unseen and downtrodden. Or the whiff of impending violence, made by conflicted heavy, honest, hardworking boots, thumping down hard on the floor of the mine and once on me. The ugly flats near St. Mary's Avenue should have been pulled down long ago. They remain as they were, devoid of beauty, stark and unfriendly in the grey of winter. Yet, another conflicting emotion arises in me, as there in those flats, my parents knew true friendship from a kind and warm couple. They unlike the flats have now left us, for what I sincerely hope is a nicer place, with a prettier view. The tree and moon are my parents. The relief in the drudgery, the hope in the midst of the concrete.
The appearance of the figure on the left panel (the right boot sole) is not a reflection of me, or anyone else, but it is a symbol of what I felt whilst relieving some of the verbal and physical confrontations that sadly marred my late teens. We lived in that little corner of Nottingham, resplendent with a beautiful church, lovely vistas of farmland and the river Trent. I recall the carefree bike rides (moving too fast for the bullies to shout obscenities) towards Stoke Bardolph, the enviable manicured lawns of the less congested areas that enveloped in greenery these older houses near the river. They changed as you rode back uphill towards St Mary;'s Avenue into rows of ugly 70s built flats and small awkward post-war semis. There, me, a newcomer to the UK, I learned that being a 'European' means nothing if that is not the way people see you. It really is a harsh yet important lesson in self-perception and identity.
I learned that you are fair game to bored and aggressive teenagers in the street, or fellow 'enlightened' Digby college students (and occasionally staff) who would use any opportunity to use painfully racist language to hurt and exclude you. Sometimes to punish you. Other times, as a casual amusing retort. By coincidence, one of the perpetrators, quite oblivious to the harm and distress he caused, recently wrote to me. 42 years later, I have not forgotten, what for him was probably just another casual act in an otherwise unremarkable, long-forgotten college day.
As I worked my way through the British Education system and was blessed with a position of some authority, I often wondered how anyone in education could allow such blatant aggression to go unchallenged in an environment where young people experience the turmoil of adolescence. Do the perpetrators of racism recoil from those memories? Do they I wonder find a way to simply ignore their unresolved past, when as in the afore mentioned man's case they become 'enlightened' enough to befriend me now? I feel harsh making these judgments about another time and another place. Yet, from an early age, I also recall not wanting to hurt others and belittle them. Maybe that aspect of human behaviour, that of knowing that you can hurt others is relatively free of social norms? In other words, hurting others is not acceptable at any time. This is a big topic, I know. Such expansive thinking whilst making such a small print. I judge that to be a good sign, often leading to thought-provoking work.
Remarkable the power of the footprint and those tracks that last much longer than expected.